Elder Care in The Heights, TX: The Village Concept
Elder care is a constantly changing industry. As lives are lengthening and the medical community is improving, seniors are able to live healthier, more productive, and more active lifestyles well into their elderly years. Innovative elder care is about keeping up with the changes in the elder care industry and making adjustments to the elderly care services decisions that you have made for your aging loved ones. While previous generations may have had limited options when it came to ongoing care, today's seniors have far more opportunities. Beyond just assisted living communities, nursing homes and home care services, seniors now have a variety of innovative options available to them to help them maintain the independence, freedom and quality of life they value. Many seniors are not in need of continuous care such as would be provided by a home care services companion. These seniors, instead, could benefit from assistance in taking care of their normal activities of daily living.
One of the newest concepts in elder care is referred to as the Village Concept. This cooperative effort features members of a community coming together to share the responsibilities of caring for seniors. The aging adults who choose to be a part of the Village pay an annual fee that covers the expenses related to the care that they are provided.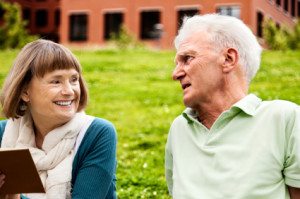 These expenses can include such services as:
Meal delivery or preparation
Grocery shopping and delivery
Lawn and garden maintenance
Home maintenance
Social organizations and activities
Regular outings
Transportation services
Continuing education
The preferable situation is that your aging loved one already lives in an area with an active elder care Village. This would mean all he would need to do is pay the annual fee to become part of the cooperative. If this is not the case, you may wish to discuss the possibility of transitioning your loved on into a community with an established Village. This will permit him to remain in a comfortable, independent home while still receiving valuable assistance to enhance his daily life.
There are currently 56 elder care Villages running throughout the nation. If there is not one in your local community, and you feel that there is a pressing need for one, don't hesitate to contact the elder care services agency in your area to discuss the possibility of beginning one. These grassroots efforts allow for cooperation among various members of the community to provide increased quality of life, independence and well-being of everyone involved.
If you have a loved one who could benefit from the help of elder care in The Heights, TX contact the caregivers at At Your Side Home Care. We help seniors and their families with many levels of home care service. Call (832) 271-1600 for more information.
For most of us, the word "home" evokes warm feelings of comfort, security and well-being. For older adults, home also means holding tight to cherished memories and maintaining self-esteem and independence. When illness, injury or age make life a little more challenging, remaining at home in a comfortable, familiar environment encourages recovery and enhances the quality of life. Home can be defined as a private residence, an independent or assisted living facility or even a short term stay in the hospital, we recognize the additional benefits provided by a personal, professional assistant.

Our Certified Nurse Aides, 24-Hour Live-in Assistants and Home Health Aides are available 24 hours a day, 365 days a year. We also provide the security and confidence of 24-hour Telephone Assistance, so fast, reliable help is always available when it's needed. To learn more about our homecare services see our homecare services page.

Different people need different levels of homecare. To meet the requirements of our clients, At Your Side Homecare maintains consistent staffing levels of caring professionals. Homecare service is available for as little as a few hours a week, or as many as 24 hours a day, seven days a week
Latest posts by Donna Wrabel, LMSW (see all)