Elder Care in Spring Valley, TX: A Walking Test for Dementia
There is some recent news that may be of interest to elderly home care providers. Some fairly new studies are suggesting that there are changes in the way that an older person walks which may be an early indicator of cognitive decline – and that includes Alzheimer's disease.
The reason this news is so interesting is that watching and studying the way a person walks is such an easy, non-invasive tool for forecasting cognitive changes, dementia, and Alzheimer's disease. The change in gait may even show up before any behavioral changes do. When the gait deteriorates, it's a signal to start testing the memory.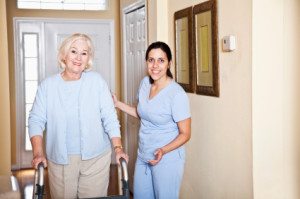 These findings are based on five different studies and show promise in being used, one day, for possibly diagnosing Alzheimer's. Currently the only way to be 100% certain of an Alzheimer's diagnosis is through brain studies.
Early interventions for a disease like Alzheimer's means that a person could be diagnosed early enough for treatments to really make a difference.
Studies in the changes of walking patterns for Parkinson's patients are nothing new. Scientists have also been studying gait changes after stroke or heart attack. Some changes in gait or the way of walking are not attributable to normal aging.
As a result of these studies, it goes without saying that any changes in gait or unusual walking patters should be checked out by the person's physician.
Blood sugar levels linked to dementia?
Another unrelated but interesting piece of news related to dementia is that high blood glucose levels are linked to a greater risk of developing dementia. It doesn't even have to be diabetes that is the link; just high blood sugar levels. High blood sugar levels have been shown to have a negative impact on the brain.
The details of why a higher blood glucose level can determine development of dementia are not known; all that is known is that the % risk of dementia increases a few percent with every climb of a few more mg/dL of blood sugar levels.
The lesson in this second piece of news is that blood sugar levels should be checked regularly and kept at healthy minimums. Lifestyle changes that result in lowering blood glucose levels could also lower risks of developing dementia. Healthy lifestyle practices like eating well and regular exercise can help to keep glucose levels in check. Maintaining a healthy body weight is also of vital importance.
If you have a loved one who could benefit from the help of elder care in Spring Valley, TX contact the caregivers at At Your Side Home Care. We help seniors and their families with many levels of home care service. Call (832) 271-1600 for more information.
For most of us, the word "home" evokes warm feelings of comfort, security and well-being. For older adults, home also means holding tight to cherished memories and maintaining self-esteem and independence. When illness, injury or age make life a little more challenging, remaining at home in a comfortable, familiar environment encourages recovery and enhances the quality of life. Home can be defined as a private residence, an independent or assisted living facility or even a short term stay in the hospital, we recognize the additional benefits provided by a personal, professional assistant.

Our Certified Nurse Aides, 24-Hour Live-in Assistants and Home Health Aides are available 24 hours a day, 365 days a year. We also provide the security and confidence of 24-hour Telephone Assistance, so fast, reliable help is always available when it's needed. To learn more about our homecare services see our homecare services page.

Different people need different levels of homecare. To meet the requirements of our clients, At Your Side Homecare maintains consistent staffing levels of caring professionals. Homecare service is available for as little as a few hours a week, or as many as 24 hours a day, seven days a week
Latest posts by Donna Wrabel, LMSW (see all)