How to Handle an Ornery Individual when Providing Elder Care in Memorial, TX
Karen's father was ornery, to say the least, and when she was trying to provide the right level of elder care for him, she had one of the greatest challenges of her life. What does it mean for someone to be ornery? Essentially, it means someone who is bad tempered and combative.
Most of us know at least a few of these people throughout our lives. These are people who, no matter what you're trying to do for them, no matter what the situation, they will be more than willing to argue, insult you, and basically do anything they can to cause as much strife and conflict as possible. There are plenty of reasons why some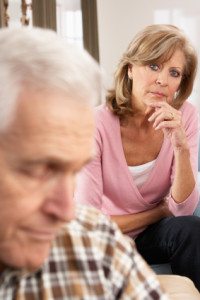 people act this way, and it's not really all that important at the moment to try to take this topic on, but when you have to deal with someone like that, especially when you hire home care for elderly loved ones, it's a good idea to at least have a basic understanding about how to handle them.
Like Karen had to learn. The advantage for Karen, though, was that she had known her father all her life. He had always been ornery and she often felt bad for her mother for having to deal with it for so many years. Now her mother had passed away more than two years earlier and she was left to deal with the aftermath.
The first thing that she did was to lay down a few acceptable ground rules. Her father needed some basic help to remain living on his own. He didn't want the help and would rather criticize everything that she did, but she let him know that aside from ensuring that she would make sure he was safe, he would be left alone if he acted up, meaning no meals cooked for him and no laundry cleaned.
He didn't like this prospect and pressed her in the beginning. She held firm to her promise and he learned quickly that if he argued or acted up, he was going to have to fend for himself. Karen made sure that there was plenty of food to eat, but the type that was ready wasn't what he liked.
Karen was firm and set the ground rules, respecting his autonomy and his right to live in his own home, but made sure that he understood there had to be mutual respect; otherwise he wouldn't get the help he needed. She took the first step in elder care with an ornery individual; she established the expectation and stood by the consequence.
If you have a loved one who could benefit from the help of elder care in Memorial, TX contact the caregivers at At Your Side Home Care. We help seniors and their families with many levels of home care service. Call (832) 271-1600 for more information.
For most of us, the word "home" evokes warm feelings of comfort, security and well-being. For older adults, home also means holding tight to cherished memories and maintaining self-esteem and independence. When illness, injury or age make life a little more challenging, remaining at home in a comfortable, familiar environment encourages recovery and enhances the quality of life. Home can be defined as a private residence, an independent or assisted living facility or even a short term stay in the hospital, we recognize the additional benefits provided by a personal, professional assistant.

Our Certified Nurse Aides, 24-Hour Live-in Assistants and Home Health Aides are available 24 hours a day, 365 days a year. We also provide the security and confidence of 24-hour Telephone Assistance, so fast, reliable help is always available when it's needed. To learn more about our homecare services see our homecare services page.

Different people need different levels of homecare. To meet the requirements of our clients, At Your Side Homecare maintains consistent staffing levels of caring professionals. Homecare service is available for as little as a few hours a week, or as many as 24 hours a day, seven days a week
Latest posts by Donna Wrabel, LMSW (see all)