Elder Care Fun – Visiting a Local Farmer's Market
Elder Care in Houston TX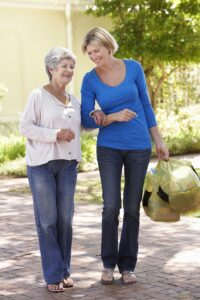 Now that Spring is here, the weather is perfect for elderly adults to get outside of the house and enjoy time outdoors and time out and about in the community. One great place for elderly adults and their caregivers to visit in the spring is the local farmer's market. With springtime comes fresh, new fruits, vegetables, herbs, and flowers, so it is a great time to take a look at what your region's farms have to offer. In addition to finding healthy, fresh, and delicious foods, you will be supporting the local economy and small farms near where you live. If your elderly loved one is interested in taking a trip to the local farmer's market this spring, here are just a few tips to help you make it a fun and exciting experience.
Try New Foods
Buying produce that is in season is always a good idea, especially at the farmer's market! The in-season produce will be the freshest and the most inexpensive. This spring, try to find a fruit or a vegetable that you and your elderly loved one have never tried before and try it. You could use it in a new recipe that you found online or ask the vendor/farmer for tips on how to prepare it. You may just find a new favorite!
Get Your Exercise In
If your farmer's market is small enough, take the time to walk through it with your loved one once without stopping. Take a look at the booths, but keep walking. After you are done with this lap, visit the booths and make your purchases. Then, if you are up for it, make one more lap around the market. The extra walking will be great exercise for both you and your loved one and you will be sure not to miss a single thing!
Bring a Cart
If you and your loved one plan to buy more than you can carry, be sure to bring a market cart. Carrying heavy bags while walking can put strain on the back and shoulders, something you both certainly would like to avoid. If you only plan on picking up a few items, bring a reusable tote, a greener alternative to paper or plastic bags.
Get Ingredients for a Healthy Recipe
Eating a healthy diet that is rich in nutrients is important both for elderly adults and their caregivers. With your loved one, pick out a healthy recipe that you would both like to try and then buy the ingredients at the farmer's market. When you cook and eat it you will feel good about getting great nutrition and about supporting local farmers in your community.
If you or an aging loved one are considering elder care in Houston, TX, please call the caring staff at At Your Side Home Care. We will answer all of your senior care questions. Call today: (832) 271-1600.
For most of us, the word "home" evokes warm feelings of comfort, security and well-being. For older adults, home also means holding tight to cherished memories and maintaining self-esteem and independence. When illness, injury or age make life a little more challenging, remaining at home in a comfortable, familiar environment encourages recovery and enhances the quality of life. Home can be defined as a private residence, an independent or assisted living facility or even a short term stay in the hospital, we recognize the additional benefits provided by a personal, professional assistant.

Our Certified Nurse Aides, 24-Hour Live-in Assistants and Home Health Aides are available 24 hours a day, 365 days a year. We also provide the security and confidence of 24-hour Telephone Assistance, so fast, reliable help is always available when it's needed. To learn more about our homecare services see our homecare services page.

Different people need different levels of homecare. To meet the requirements of our clients, At Your Side Homecare maintains consistent staffing levels of caring professionals. Homecare service is available for as little as a few hours a week, or as many as 24 hours a day, seven days a week
Latest posts by Donna Wrabel, LMSW (see all)