Elder Care in Hilshire Village, TX: July 9th is National Sugar Cookie Day
Sugar cookies have been an American family favorite since who knows when. They are popular with kids of all ages, from 1 to 101 and beyond. They certainly don't last long around the house once they've been made.
Practically everyone knows what a sugar cookie is. Lots of people are addicted to them. When you serve a plate of sugar cookies, the plate empties really fast. Maybe it's partially because they are so easy to make. They are also fun to cut into different shapes. You can even get cookie cutters in shapes that suit every holiday of the entire year. Then there's the decorating part. Who doesn't like to decorate these tasty little tidbits?
Some people like them warm, fresh out of the oven, before they've even cooled off or had a chance to be decorated with colored icing and sprinkles. Others would rather wait until they have the pink icing and multi-colored sprinkles and are crisp on the outside when you bite into them, yet soft on the inside.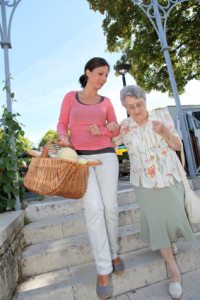 Here's a recipe for easy and fun sugar cookies. Have fun baking and decorating! It's a fun activity for elderly home care providers and their elderly adults to do together and then share with loved ones.
Easy Sugar Cookie Recipe
1 ½ cups butter; softened
4 eggs
2 cups white sugar
1 teaspoon vanilla extract
1 teaspoon salt
2 teaspoons baking powder
5 cups flour (all purpose)
1)     Using a large bowl, cream together the sugar and butter until smooth. Beat in the vanilla and eggs. Stir the flour, salt and baking powder into the wet ingredients. Cover and chill dough for at least one hour; overnight is better.
2)     Preheat the oven to 400 degrees F. Roll out the dough on a floured surface until dough is ¼ to ½ inch thick. Use any shape cookie cutters to cut dough into shapes. Place cookies 1 inch apart on ungreased non-stick cookie baking sheets.
3)     Bake 6 to 8 minutes in the oven. Cool completely.
4)     Decorate the cookies as you wish.
Sugar cookies freeze well. If you make a big batch and don't have enough people to gobble them up in a day or two, then they can be frozen in plastic bags or sealed containers in the freezer to take out later. When company unexpectedly arrives, you can take out a few cookies and make a pot of herb tea and you have a nice little tea party for your guests.
If you have a loved one who could benefit from the help of elder care services in Hilshire Village, TX contact the caregivers at At Your Side Home Care. We help seniors and their families with many levels of home care service. Call (832) 271-1600 for more information.
For most of us, the word "home" evokes warm feelings of comfort, security and well-being. For older adults, home also means holding tight to cherished memories and maintaining self-esteem and independence. When illness, injury or age make life a little more challenging, remaining at home in a comfortable, familiar environment encourages recovery and enhances the quality of life. Home can be defined as a private residence, an independent or assisted living facility or even a short term stay in the hospital, we recognize the additional benefits provided by a personal, professional assistant.

Our Certified Nurse Aides, 24-Hour Live-in Assistants and Home Health Aides are available 24 hours a day, 365 days a year. We also provide the security and confidence of 24-hour Telephone Assistance, so fast, reliable help is always available when it's needed. To learn more about our homecare services see our homecare services page.

Different people need different levels of homecare. To meet the requirements of our clients, At Your Side Homecare maintains consistent staffing levels of caring professionals. Homecare service is available for as little as a few hours a week, or as many as 24 hours a day, seven days a week
Latest posts by Donna Wrabel, LMSW (see all)