Elder Care in Garden Oaks, TX: Meal Delivery Programs for Seniors
Not all seniors require extensive elder care featuring an elderly care provider in the home at all times. This does not mean, however, that these seniors would not benefit from regular interaction with others, and assistance with appropriate nutrition. Meal delivery programs for seniors are fantastic opportunities for cooperative elder care with the community. When seniors are not in need of having a professional or family elder care provider in the home to assist with activities of daily living, or other needs such as managing medical conditions, these seniors often cope with boredom, loneliness and declined condition simply due to lack of will. Seniors will also often neglect their nutrition because they do not want to cook only for themselves, or lack the capacity to prepare their meals completely on their own any longer. Meal delivery programs for seniors not only give seniors the opportunity to interact with volunteers on a daily basis, but ensure they have at least one well-balanced, nutritious meal on a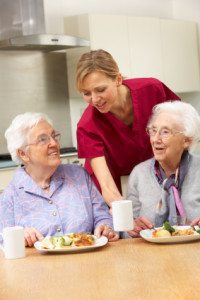 daily basis.
Contact the elder care services agency in your area to find the meal delivery programs available to your aging loved one. Most meal delivery programs for seniors offer to meals per day. Generally this is a hot lunch served in the middle of the day, and a cold dinner such as a sandwich or salad it served in the evening. These meals meet specific nutritional requirements, but are also designed to be enjoyable for a wide range of talents. For most seniors, the most beneficial element of a meal delivery program, though, is the actual social interaction provided by these programs. Meals are delivered by volunteers who are happy to come into the home and spend a few minutes with your loved one just talking and keeping him company. A volunteer visiting your aging loved one once or twice each day can give you peace of mind knowing someone will be checking in on him regularly. Most of the time these volunteers carry emergency contact information for a member of the senior's family so that if the door is not answered, or problems or otherwise noted, the emergency contact can be notified.
If you are considering a meal delivery program for your aging loved one, discuss with the organization that provides the meals details of the program such as the schedule of meal delivery, how the volunteers are selected and if the menus can be customized in any specific way. While most of the time meals are pre selected and delivered to all seniors on the delivery list, if your aging loved one has specific dietary restrictions such as allergies or cultural dietary guidelines, the organization may be able to make a special consideration just for him.
If you have a loved one who could benefit from the help of elder care in Garden Oaks, TX contact the caregivers at At Your Side Home Care. We help seniors and their families with many levels of home care service. Call (832) 271-1600 for more information.
For most of us, the word "home" evokes warm feelings of comfort, security and well-being. For older adults, home also means holding tight to cherished memories and maintaining self-esteem and independence. When illness, injury or age make life a little more challenging, remaining at home in a comfortable, familiar environment encourages recovery and enhances the quality of life. Home can be defined as a private residence, an independent or assisted living facility or even a short term stay in the hospital, we recognize the additional benefits provided by a personal, professional assistant.

Our Certified Nurse Aides, 24-Hour Live-in Assistants and Home Health Aides are available 24 hours a day, 365 days a year. We also provide the security and confidence of 24-hour Telephone Assistance, so fast, reliable help is always available when it's needed. To learn more about our homecare services see our homecare services page.

Different people need different levels of homecare. To meet the requirements of our clients, At Your Side Homecare maintains consistent staffing levels of caring professionals. Homecare service is available for as little as a few hours a week, or as many as 24 hours a day, seven days a week
Latest posts by Donna Wrabel, LMSW (see all)