Elder Care in Garden Oaks, TX: Cooking Meals Together
For seniors living at home but who require extra assistance, it can be a frustrating moment in their life. They are likely limited to what they can do and they may not even be able to drive themselves to social activities, neighbors houses, friends, or even to visit family. That's why when it comes to elder care, it's important to keep in mind that certain activities can provide a wealth of emotional support to an elderly loved one.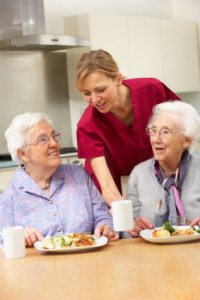 One of the simple tasks that you can do with your mother or father is to cook meals together. Everyone has to eat. It is a simple fact of life and not one that needs to be repeated often. However, in our hustle and bustle, fast-paced world that we live in, mealtime has become somewhat of an inconvenience at many points in our life. We realize how little time we have during the day and look at dinner and think, "what can I make that is quick and easy?"
This is a wonderful opportunity to spend time with an elderly loved one and provide a high level of care for the individual. It doesn't matter whether you are the one providing home care or if you hired a professional elderly health care service. Cooking meals with your loved one will allow you to spend time together while also ensuring that they eat healthy. Nutrition is vitally important, but often neglected, not only for us and our children but also for elderly individuals.
When you want to provide the highest level of elder care for a loved one, make time to spend at least one afternoon or evening cooking a meal together with them. It doesn't matter if it is with your mother who is an accomplished cook in the kitchen or with your father who couldn't figure out the difference between a tablespoon and a teaspoon.
Even if you don't have a lot of skill around the kitchen, this can be a great opportunity to learn about nutrition and what the best foods to consume are. Not only will you be learning something beneficial to your health as well as your loved one, but you are also spending quality time together.
When it comes to home care for the elderly, there are many opportunities to spend more time together and to make that time count and be of high quality. Cooking a meal together is one of those opportunities.
If you have a loved one who could benefit from the help of elder care services in Garden Oaks, TX contact the caregivers at At Your Side Home Care. We help seniors and their families with many levels of home care service. Call (832) 271-1600 for more information.
For most of us, the word "home" evokes warm feelings of comfort, security and well-being. For older adults, home also means holding tight to cherished memories and maintaining self-esteem and independence. When illness, injury or age make life a little more challenging, remaining at home in a comfortable, familiar environment encourages recovery and enhances the quality of life. Home can be defined as a private residence, an independent or assisted living facility or even a short term stay in the hospital, we recognize the additional benefits provided by a personal, professional assistant.

Our Certified Nurse Aides, 24-Hour Live-in Assistants and Home Health Aides are available 24 hours a day, 365 days a year. We also provide the security and confidence of 24-hour Telephone Assistance, so fast, reliable help is always available when it's needed. To learn more about our homecare services see our homecare services page.

Different people need different levels of homecare. To meet the requirements of our clients, At Your Side Homecare maintains consistent staffing levels of caring professionals. Homecare service is available for as little as a few hours a week, or as many as 24 hours a day, seven days a week
Latest posts by Donna Wrabel, LMSW (see all)