Elder Care and the sun: Why Melanoma is Still Something to Think About in Memorial, TX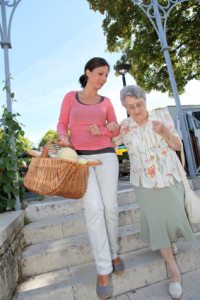 The sun is a great source for providing warmth and vitamin D. However, before heading outdoors, caregivers need to take an extra step when providing elder care to ensure that they are protected against the harmful effects of the sun. Melanoma is something to consider when bringing your loved one out in the sun.
What is Melanoma?
Melanoma is a form of cancer that develops in the pigment cells in the skin. It is considered more serious than other forms of skin cancer because of its ability to metastasize, spread to other parts of the body.
Melanoma is the most dangerous type of skin cancer triggered by the sun and the leading cause of death from skin disease. According to research, over 50% of deaths involving skin cancer occur in people over the age of 65. Serious sunburns at a young age often cause problems in later years. As we age, the skin loses its ability to protect itself so it is even more critical to protect our skin from the sun.
When taking your loved one out in the sun, reduce exposure by wearing hats and tightly woven clothing. Use a waterproof sunscreen with an SPF of 30 or higher and apply it often. Seniors who like to go to the beach should consider sitting under an umbrella.
Early detection can be cured with minor surgery. Check your skin on a regular basis. If you notice a new or changing spot on your skin, have your doctor take a look at it. Every May, all over the country, the American Academy of Dermatology promotes free skin cancer screening clinics.
The main types of melanoma are:
Superficial spreading melanoma
This type of melanoma accounts for 70% of all cases. This type of melanoma commonly appears on the legs of women and the backs of men. They are barely raised and can be different colors. They evolve over a period of one to five years. If caught early, they can be removed.
Nodular melanoma
This type accounts for 20% of cases in which the melanoma appears as a deeper blue-black to a purplish colored lump. They evolve fast and are more likely to spread.
Lentigo maligna
This type appears on the face due to constant sun exposure. It appears as a large irregular shape or a colored freckle. This type is slow to evolve and may take years before it becomes a dangerous melanoma.
As a part of providing elder care, don't take the sun lightly. Encourage the elderly to take care of and protect their skin.
If you have a loved one who could benefit from the help of home care services in Memorial, TX contact the caregivers at At Your Side Home Care. We help seniors and their families with many levels of home care service. Call (832) 271-1600 for more information.
For most of us, the word "home" evokes warm feelings of comfort, security and well-being. For older adults, home also means holding tight to cherished memories and maintaining self-esteem and independence. When illness, injury or age make life a little more challenging, remaining at home in a comfortable, familiar environment encourages recovery and enhances the quality of life. Home can be defined as a private residence, an independent or assisted living facility or even a short term stay in the hospital, we recognize the additional benefits provided by a personal, professional assistant.

Our Certified Nurse Aides, 24-Hour Live-in Assistants and Home Health Aides are available 24 hours a day, 365 days a year. We also provide the security and confidence of 24-hour Telephone Assistance, so fast, reliable help is always available when it's needed. To learn more about our homecare services see our homecare services page.

Different people need different levels of homecare. To meet the requirements of our clients, At Your Side Homecare maintains consistent staffing levels of caring professionals. Homecare service is available for as little as a few hours a week, or as many as 24 hours a day, seven days a week
Latest posts by Donna Wrabel, LMSW (see all)