Did you know? September 29th is National Coffee Day!
Caregivers in The Heights, TX
–
 Take a Break and Enjoy a Relaxing Cup of Coffee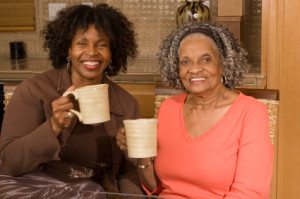 When you're feeling stressed and you need to get away from the daily routine of caregiving, consider going out for a cup of coffee with a good friend. There's no better time to do it than on National Coffee Day, which falls on Monday, September 29th this year. Many restaurants are offering free coffee on that day, and even for a few days leading up to the day. So keep your eyes and ears open to see where you can grab a free cup of coffee and a chat!
Coffee is definitely America's favorite caffeinated drink, and one of the world's biggest crops. It is believed to have been discovered by a 9th century goat herder who noticed the stimulating effect the coffee beans had on his flock of goats.
The tradition of drinking coffee was later popularised sometime in the 15th century in the Arab world. From there it spread to Asia, Italy and then across Europe and then to the Americas. Buying coffee today the emphasis is all on ethical trade and knowing where your coffee came from and under what circumstances it was produced and sold.
As a family caregiver, too many days of senior care of your elderly loved one without a break can start to feel very fatiguing. Beat your stress and renew your energy by doing some of the following:
Get another family member to take a turn with caregiving to give you some time off

Get together socially with friends and go out for an activity

Go running or swimming or bicycling and try to work of some of that stress. Physical exercise is a great stress reducer!

Go out and grab a cup of coffee with your BF and spend some time chatting and catching up

Go out shopping

Go see a new movie or watch a favorite oldie

Go spoil yourself with a massage or go get a manicure or pedicure

Find a way to crash into bed early and catch up on that much-needed sleep time

Hire some home care to take over the caregiving duties for you a few days each week
Socializing helps you take your mind off of the problems that are making you feel stressed, such as caring for an elderly loved one. Humans need social activity and they need human touch. A hug from your friend can cure a lot of ills, so consider celebrating National Coffee Day with a friend and becoming rejuvenated. 
If you have a loved one who could benefit from the help of caregivers in The Heights, TX contact At Your Side Home Care. We help seniors and their families with many levels of home care service. Call (832) 271-1600 for more information.
For most of us, the word "home" evokes warm feelings of comfort, security and well-being. For older adults, home also means holding tight to cherished memories and maintaining self-esteem and independence. When illness, injury or age make life a little more challenging, remaining at home in a comfortable, familiar environment encourages recovery and enhances the quality of life. Home can be defined as a private residence, an independent or assisted living facility or even a short term stay in the hospital, we recognize the additional benefits provided by a personal, professional assistant.

Our Certified Nurse Aides, 24-Hour Live-in Assistants and Home Health Aides are available 24 hours a day, 365 days a year. We also provide the security and confidence of 24-hour Telephone Assistance, so fast, reliable help is always available when it's needed. To learn more about our homecare services see our homecare services page.

Different people need different levels of homecare. To meet the requirements of our clients, At Your Side Homecare maintains consistent staffing levels of caring professionals. Homecare service is available for as little as a few hours a week, or as many as 24 hours a day, seven days a week
Latest posts by Donna Wrabel, LMSW (see all)