Creating a Care Plan for Someone With Alzheimer's Disease
Home Care in Garden Oaks, TX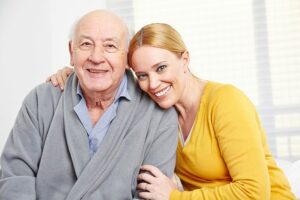 For people with Alzheimer's disease, too much downtime can cause them to become bored, causing the elder receiving senior care to become agitated and difficult to care for. This unmanageable behavior can cause the caregiver to also become stressed and irritable. One effective way to change everyone's mood around is by having a regular daily schedule that does not leave much time for your loved one to become bored. You probably already have a schedule set up to assist your elderly loved one in completing their daily tasks, such as  bathing, grooming, brushing their teeth, and going to bed, but incorporating activities, exercise, and other fun things to do together will keep them engaged and entertained, possibly helping them sleep better at night as well. Here are some tips to help you create an effective daily schedule.
Before creating the plan
People with Alzheimer's and other forms of dementia may have bouts of uncontrollable before and aggression, so give your schedule a little wiggle room for these unexpected behaviors. Also, creating the plan should be done with care in order to incorporate things your loved one would enjoy. Consider the following:
What do they like and dislike?
What are they interested in?
What time of the day will the elder function the best?
Regular daily tasks should also be included, such as housework, meals, personal care, waking and bed times, social and spiritual activities, creative activities, and anything else your loved one would enjoy.
Creating the plan
Every minute of the day does not need to be planned out; in fact, the elder you are providing in-home care will need some downtime and rest between activities. The following is an example of a daily plan that may work well for your aging loved one.
Morning routine:
Wash, brush teeth and hair, and get dressed
Prepare and serve breakfast
Do a craft project, read the newspaper, or look at and reminisce over old photos
Have some quiet time to relax
Work together to complete chores
Take a walk or other physical activity
Afternoon routine:
Prepare and eat lunch, wash dishes
Read mail, pay bills
Do crossword or jigsaw puzzles, watch TV
Take a walk, do some gardening, or visit a friend or family member
Take a break or nap
Evening routine:
Prepare and eat dinner, clean up the kitchen
Talk over coffee and dessert
Watch a movie or play a game
Take a bath, brush teeth, get ready for bed, read a book
Of course, you need to include activities that your loved one will enjoy. Also, keep in mind that every day may be different depending on the mood of your loved one, but this plan example should give you an idea of what to include in the daily schedule for you and the older adult you are providing elder care for.
Source
Alzheimer's Association. "Creating a Daily Plan."
If you have a loved one who could benefit from home care in Garden Oaks, TX contact At Your Side Home Care. We help seniors and their families with many levels of home care service. Call (832) 271-1600 for more information.
For most of us, the word "home" evokes warm feelings of comfort, security and well-being. For older adults, home also means holding tight to cherished memories and maintaining self-esteem and independence. When illness, injury or age make life a little more challenging, remaining at home in a comfortable, familiar environment encourages recovery and enhances the quality of life. Home can be defined as a private residence, an independent or assisted living facility or even a short term stay in the hospital, we recognize the additional benefits provided by a personal, professional assistant.

Our Certified Nurse Aides, 24-Hour Live-in Assistants and Home Health Aides are available 24 hours a day, 365 days a year. We also provide the security and confidence of 24-hour Telephone Assistance, so fast, reliable help is always available when it's needed. To learn more about our homecare services see our homecare services page.

Different people need different levels of homecare. To meet the requirements of our clients, At Your Side Homecare maintains consistent staffing levels of caring professionals. Homecare service is available for as little as a few hours a week, or as many as 24 hours a day, seven days a week
Latest posts by Donna Wrabel, LMSW (see all)