Charge It! Helping Seniors Avoid Debt this Holiday Season
Elderly Care in River Oaks, TX – Don't Let your Loved Ones Get Caught Up in the Home Shopping Net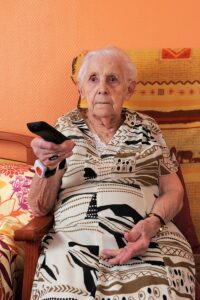 The holiday seasons are fast approaching once again. While many people get excited about this time of the year because of all of the special deals they can get on various products and other merchandise, it also has a tendency to cause people to overspend significantly. For somebody who may rely on elderly care, or who lives alone and is of advanced years, getting into debt can be a serious problem.
The reason this is a concern is that the majority of people who spend a lot of money and get into a significant amount of debt through shopping on the TV, such as through the QVC or Home Shopping Network, are elderly individuals living alone.
Just making a phone call to order something will usually put them in touch with a live operator. They may also receive telemarketing calls on a regular basis. People who are lonely will latch onto these individuals on the other end of the phone. It won't matter that they are complete strangers and that their primary goal is to make sales. These lonely individuals will continue the conversation as long as possible.
That often means spending more and more money to buy more and more items. They may talk about their family, ask questions about the person on the other end of the line, and all the while be purchasing more and more items that they don't need, that nobody they know wants, and that will just collect dust in their basement when it finally arrives.
Loneliness is a serious concern for elderly individuals. No matter how old someone is, if they don't feel that they have a connection to anyone else, especially families or close friends, they can become depressed or reach out for human contact in other areas. As the holiday shopping season approaches, there will be more and more advertisements on TV, in newspapers, and just about everywhere else, along with an increase in telemarketing calls.
If you have an elderly loved one whom you are concerned about, you can certainly talk to them on a more regular basis, but you can also encourage them to consider hiring elderly care for not only companionship, but also assistance. If they agree to hire elderly care providers, or already have caregivers working with them, you may want to sit down with your loved one and those caregivers to talk about helping your loved one avoid getting into debt by spending more than they should this holiday season.
If you have a loved one who could benefit from the help of elderly care in River Oaks, TX contact At Your Side Home Care. We help seniors and their families with many levels of home care service. Call (832) 271-1600 for more information.
For most of us, the word "home" evokes warm feelings of comfort, security and well-being. For older adults, home also means holding tight to cherished memories and maintaining self-esteem and independence. When illness, injury or age make life a little more challenging, remaining at home in a comfortable, familiar environment encourages recovery and enhances the quality of life. Home can be defined as a private residence, an independent or assisted living facility or even a short term stay in the hospital, we recognize the additional benefits provided by a personal, professional assistant.

Our Certified Nurse Aides, 24-Hour Live-in Assistants and Home Health Aides are available 24 hours a day, 365 days a year. We also provide the security and confidence of 24-hour Telephone Assistance, so fast, reliable help is always available when it's needed. To learn more about our homecare services see our homecare services page.

Different people need different levels of homecare. To meet the requirements of our clients, At Your Side Homecare maintains consistent staffing levels of caring professionals. Homecare service is available for as little as a few hours a week, or as many as 24 hours a day, seven days a week
Latest posts by Donna Wrabel, LMSW (see all)