Does Your Elderly Parent Need Braces?
Caregivers in The Heights TX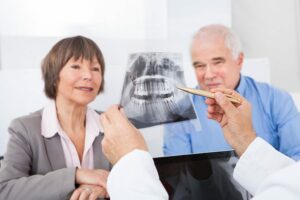 When hearing someone talk about braces, you may be thinking about a student in middle school or high school whose teeth could use some straightening up. But did you know that some senior citizens could also use straightening?
Research has been conducted to show that malocclusion, or "bad bite," has been found in elderly adults in the same way that it is often found in adolescents. Whether your loved one's teeth are crowding one another or they have begun to drift after having some teeth removed, as many as three-quarters of adults are in need of some orthodontic work. When determining whether or not braces are necessary for your parent, it is important you take the following information into consideration.
The Pros and Cons of Braces
Pros
Braces today are much smaller and more invisible. Braces used to be known for their bulky design that filled the mouth with easy-to-see metal brackets. Today, they are much more invisible, with the use of fewer and smaller brackets. Stainless steel brackets are often used because of their affordable price and effective design, but gold brackets are also available.
Other innovative options are available. Metal braces are not the only options available. Some older adults opt for clear plastic and ceramic brackets because they are less noticeable.
A lingual device is also available. This type of device attaches to the back of the teeth in order to hide the visibility of brackets and wires when the elder smiles.
Orthodontic services may be covered by insurance. Some services may be covered by your loved one's insurance provider, so check with them to find out what services are covered.
Cons
Issues with ceramic brackets. Ceramic brackets may be more affordable than the metal variety, but they may break much more easily. They can also wear away the tooth's enamel, causing the teeth to become much weaker.
Lingual devices can cause speech problems. These invisible braces can cause speech difficulties among older adults, while also severely irritating the tongue.
Orthodontic services can be expensive. If the senior's insurance does not cover these services, it can be extremely costly. Prices range from $5,000 to $7,500.
Braces can keep your elderly loved one's teeth looking great for years to come. However, the elder will need to qualify for these services based on their current oral health. With the help of professional caregivers, your aging parent will be able to have a clean and healthy mouth, as well as straight teeth, if they are candidates for an orthodontic procedure.
Source:
http://www.health.harvard.edu/oral-health/are-you-too-old-for-braces
http://www.deardoctor.com/inside-the-magazine/issue-21/orthodontics-for-the-older-adult/
If you or an aging loved one are considering caregivers in The Heights, TX, please call the caring staff at At Your Side Home Care. We will answer all of your senior care questions. Call today: (832) 271-1600.
For most of us, the word "home" evokes warm feelings of comfort, security and well-being. For older adults, home also means holding tight to cherished memories and maintaining self-esteem and independence. When illness, injury or age make life a little more challenging, remaining at home in a comfortable, familiar environment encourages recovery and enhances the quality of life. Home can be defined as a private residence, an independent or assisted living facility or even a short term stay in the hospital, we recognize the additional benefits provided by a personal, professional assistant.

Our Certified Nurse Aides, 24-Hour Live-in Assistants and Home Health Aides are available 24 hours a day, 365 days a year. We also provide the security and confidence of 24-hour Telephone Assistance, so fast, reliable help is always available when it's needed. To learn more about our homecare services see our homecare services page.

Different people need different levels of homecare. To meet the requirements of our clients, At Your Side Homecare maintains consistent staffing levels of caring professionals. Homecare service is available for as little as a few hours a week, or as many as 24 hours a day, seven days a week
Latest posts by Donna Wrabel, LMSW (see all)