3 Signs Life as a Caregiver Is Hurting Your Relationship with Mom
Caregivers in River Oaks TX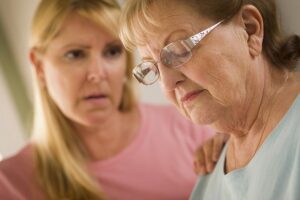 How much of an impact is being a family caregiver for your mother affecting your relationship with her? It's an important question people should ask, especially if they have concerns their relationship is on the decline.
There could be a number of reasons why your relationship is hurting with her right now. It could have nothing to do with you, but more with her. It might have everything to do with you and nothing to do with her. It could be health issues, a lack of exercise, or extreme stress you may be experiencing as a caregiver.
Below are three signs you might look for that could very well indicate your life as a caregiver is having a negative impact on your relationship with your elderly mother.
Sign #1: You're fighting a lot.
If you and your mother are constantly fighting, that's not a good sign. Maybe this is not unusual for your particular relationship. However, lately those arguments have become more personal. Perhaps she's calling you names, telling you how much she doesn't want to see you, or you are getting so frustrated you keep reminding her she could be without any help at all.
If you're fighting a lot, take a look at the stress you are experiencing as a caregiver. Your mother may also be undergoing a tremendous amount of stress.
Sign #2: She won't answer the phone.
When you get home, you may get in the habit of calling her to make sure she's okay. If you do, but she's not answering the phone, what could that mean?
Maybe she doesn't want to talk to you. Maybe she's become so frustrated that another phone call is only going to lead to another argument. If she's not answering the phone, it's probably going to make you even more stressed and that's not a good sign.
Sign #3: She tells you not to bother.
If your mother is telling you not to bother with her, don't worry about her, but she'll take care of herself, is pretty good sign that your relationship with her is damaged. Stress can do that to a relationship.
You may feel the effects of stress as a family caregiver, but don't discount how much stress your mother may be under as well. When you're able to step back and analyze a situation, you may notice how stress is affecting your relationship.
If it is, consider hiring an experienced home care aide instead.
If you or an aging loved one are considering caregivers in River Oaks, TX, please call the caring staff at At Your Side Home Care. We will answer all of your senior care questions. Call today: (832) 271-1600.
For most of us, the word "home" evokes warm feelings of comfort, security and well-being. For older adults, home also means holding tight to cherished memories and maintaining self-esteem and independence. When illness, injury or age make life a little more challenging, remaining at home in a comfortable, familiar environment encourages recovery and enhances the quality of life. Home can be defined as a private residence, an independent or assisted living facility or even a short term stay in the hospital, we recognize the additional benefits provided by a personal, professional assistant.

Our Certified Nurse Aides, 24-Hour Live-in Assistants and Home Health Aides are available 24 hours a day, 365 days a year. We also provide the security and confidence of 24-hour Telephone Assistance, so fast, reliable help is always available when it's needed. To learn more about our homecare services see our homecare services page.

Different people need different levels of homecare. To meet the requirements of our clients, At Your Side Homecare maintains consistent staffing levels of caring professionals. Homecare service is available for as little as a few hours a week, or as many as 24 hours a day, seven days a week
Latest posts by Donna Wrabel, LMSW (see all)