Soothing Activities for Caregivers and Their Loved Ones
Caregivers in River Oaks TX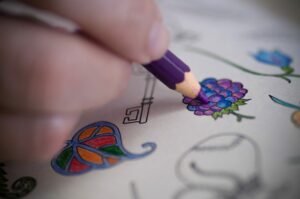 When you see children running and playing at the park, it is not unusual to long for the carefree days of childhood when you had very limited responsibilities and laughter was a part of every day. As a family caregiver for an elderly parent, you may be experiencing stress, feelings of being overwhelmed, and even worry or anxiety. In addition, it is not unusual for elderly adults to experience these feelings as well when they feel lonely, isolated, or helpless. For this reason, it is important for both caregivers and their elderly loved ones to find activities that are soothing, relaxing, and enjoyable. To discover these activities, simply look to those children having fun in the park. Many activities that are designed for children can be soothing and therapeutic to adults of any age. In addition, they are easy for you and your loved one to do together. Here are a few ideas.
Coloring in a Coloring Book
Children love coloring books and, interestingly enough, coloring books for adults are becoming very popular. This is because coloring is a relaxing activity that is great for reducing stress. Take some time with your elderly loved one to color together, you will both be able to let your stress melt away be doing a quiet and creative activity.
Play-dough
Play-dough is a popular children's art medium, but it can be fun for adults, too! Play-dough is inexpensive and easy to make at home or it can be purchased. Sculpting the dough and kneading it can be calming and it can also be a good way to help elderly adults strengthen the hands. If making homemade dough, try adding a few drops of essential oils to it to add an element of aromatherapy to the activity.
Sorting
Sorting small objects such as buttons or coins can be a great way to relax. This is also an activity that can help your loved one to stay mentally stimulated. Sorting is a quiet activity that is repetitive and easy to do with no element of stress to it.
Stringing Beads
Similar to sorting, stringing beads is another activity that is repetitive and easy to do. What is wonderful about this activity is that you and your loved one can create lovely jewelry to wear and share. Engaging in a creative activity is a great way to relax and boost self-esteem.
If you or an aging loved one are considering caregivers in River Oaks, TX, please call the caring staff at At Your Side Home Care. We will answer all of your senior care questions. Call today: (832) 271-1600.
For most of us, the word "home" evokes warm feelings of comfort, security and well-being. For older adults, home also means holding tight to cherished memories and maintaining self-esteem and independence. When illness, injury or age make life a little more challenging, remaining at home in a comfortable, familiar environment encourages recovery and enhances the quality of life. Home can be defined as a private residence, an independent or assisted living facility or even a short term stay in the hospital, we recognize the additional benefits provided by a personal, professional assistant.

Our Certified Nurse Aides, 24-Hour Live-in Assistants and Home Health Aides are available 24 hours a day, 365 days a year. We also provide the security and confidence of 24-hour Telephone Assistance, so fast, reliable help is always available when it's needed. To learn more about our homecare services see our homecare services page.

Different people need different levels of homecare. To meet the requirements of our clients, At Your Side Homecare maintains consistent staffing levels of caring professionals. Homecare service is available for as little as a few hours a week, or as many as 24 hours a day, seven days a week
Latest posts by Donna Wrabel, LMSW (see all)