What You Should Know during Balance Awareness Week
Caregivers in Memorial TX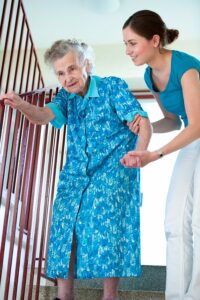 September 12 through 18 is Balance Awareness Week. This is the ideal opportunity for you to learn more about balance problems and how they can impact your loved one's health, safety, and quality of life.
One of the leading causes of balance problems is vestibular issues. Some things that you should know about vestibular issues include:
• The vestibular system is comprised of the inner ear and segments of the brain that work together to process sensory information related to balance
• More than 35 percent of adults over the age of 39 throughout the United States have experienced some form of vestibular issue in their lives
• This accounts for more than 69 million people
• There are many potential causes of vestibular disorders, including exposure to chemicals and drugs, autoimmune issues, disease, brain injury, disease, and even aging
• Not all vestibular disorders can be directly linked to a specific cause
• Symptoms of vestibular disorders include ringing in the ears, hearing loss, anxiety, challenges with cognitive functioning, dizziness, vertigo, falling sensation, and imbalance
Not everyone who suffers from balance problems are dealing with a vestibular issue. Instead there are other causes that you should keep in mind when addressing the potential issues related to balance problems for your parent. Some of these include:
• Weakness in the joints
• Stiffness or lack of range of motion in the joints
• Muscle weakness, particularly in the lower body and core
• Injury that has lingering impact on the function of the lower body
• Gait problems
• Frequent inner ear infections
• Low vision or vision problems
• Alzheimer's disease and other forms of dementia
If you notice that your aging parent is dealing with balance problems, such as falling more frequently or showing injuries that indicate that they are losing their balance more often, it is important that you discuss this with their doctor. Identifying the exact cause of the loss of balance or balance problems will help your parent's doctor to make accurate and beneficial recommendations for how you can help your parent to deal with these problems. You can then work with the doctor and your parent to create a course of care and management in the home that will help them to improve their balance and prevent the potentially dangerous consequences these can cause.
If your elderly parent is dealing with balance problems, starting home care for them can be one of the most effective ways of helping your loved one stay safer as they age in place. An in-home senior care services provider can be with your parent when you are not to provide hands-on assistance and support, individualized care, and personalized companionship, encouragement, and guidance to help them live a lifestyle that is safe, healthy, comfortable, and happy. This care is particularly beneficial if you are not able to be in the home with your parent often, or if you lack the strength or ability give your parent the help that they need to manage their balance problems so that they can avoid potentially devastating consequences.
http://vestibular.org/sites/default/files/page_files/Documents/Top%20Ten%20Facts%20about%20Vestibular%20Disorders.pdf
If you or an aging loved one are considering caregivers in Memorial, TX, please call the caring staff at At Your Side Home Care. We will answer all of your senior care questions. Call today: (832) 271-1600.
For most of us, the word "home" evokes warm feelings of comfort, security and well-being. For older adults, home also means holding tight to cherished memories and maintaining self-esteem and independence. When illness, injury or age make life a little more challenging, remaining at home in a comfortable, familiar environment encourages recovery and enhances the quality of life. Home can be defined as a private residence, an independent or assisted living facility or even a short term stay in the hospital, we recognize the additional benefits provided by a personal, professional assistant.

Our Certified Nurse Aides, 24-Hour Live-in Assistants and Home Health Aides are available 24 hours a day, 365 days a year. We also provide the security and confidence of 24-hour Telephone Assistance, so fast, reliable help is always available when it's needed. To learn more about our homecare services see our homecare services page.

Different people need different levels of homecare. To meet the requirements of our clients, At Your Side Homecare maintains consistent staffing levels of caring professionals. Homecare service is available for as little as a few hours a week, or as many as 24 hours a day, seven days a week
Latest posts by Donna Wrabel, LMSW (see all)