Celebrating Family During Universal Family Week
Caregivers in Houston TX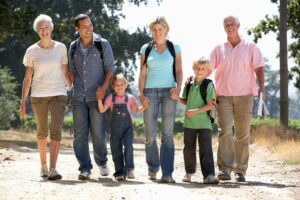 Family members are the people who love us—unconditionally. The love shared between family members is one of the strongest human connections there is. Family members are the people who have known a person longer than anyone else. Sometimes they may not know you as well as friends or others in your life, but the relationship you share with your family should never be taken for granted.
May 9-15, 2016 is Universal Family Week—a time to reach out to immediate family and relatives near and far, letting them know just how important they are to you in your life. Certainly, your aging parent knows how much you love and care about them, or you wouldn't have agreed to be their family caregiver. But it goes much more beyond that. What a perfect time this would be to help them reach out to family members they may not see very often; or to sit down with their kids and grandkids and tell them stories or play games together. This is especially important if their grandkids are grown up and haven't seen grandma or grandpa in a while.
Another activity you might want to do as a family is to talk about traditions your parent may have had growing up and the traditions they passed on to you. You could even start a new tradition this year.
What a great time Universal Family Week would be to have a family reunion, or, at least get one organized for some time later in the summer. If you or they have lost touch with one another over the years, try Facebook or other social media site to see if you can find them there. Peoplefinders.com is another great way to try locating people who have disappeared from your life. A reunion doesn't have to be a huge elaborate or expensive thing. And if getting a reunion organized seems too overwhelming, consider doing a small picnic for the immediate family.
Your parent may have siblings, children, grandchildren, or a favorite niece or nephew in different parts of the country, or world. Some cell plans offer free calls after a certain time of night or on weekends, at least national calls. International calls might be costly to make, so check with the provider. But Universal Family Week is a fantastic time to surprise someone they haven't talked to in a while with a phone call.
Another idea to celebrate family during this special time, or any other, is to chart your family history. Your parent could have lots of great information to share and it would be a wonderful way to pass the time while learning about their, and your own, ancestors.
Whether you choose to celebrate Universal Family Week in a big way, or small, the main thing is to do something together with your parent, including close or immediate family, and to let them know how much you love and appreciate them.
If you or an aging loved one are considering caregivers in Houston, TX, please call the caring staff at At Your Side Home Care. We will answer all of your senior care questions. Call today: (832) 271-1600.
For most of us, the word "home" evokes warm feelings of comfort, security and well-being. For older adults, home also means holding tight to cherished memories and maintaining self-esteem and independence. When illness, injury or age make life a little more challenging, remaining at home in a comfortable, familiar environment encourages recovery and enhances the quality of life. Home can be defined as a private residence, an independent or assisted living facility or even a short term stay in the hospital, we recognize the additional benefits provided by a personal, professional assistant.

Our Certified Nurse Aides, 24-Hour Live-in Assistants and Home Health Aides are available 24 hours a day, 365 days a year. We also provide the security and confidence of 24-hour Telephone Assistance, so fast, reliable help is always available when it's needed. To learn more about our homecare services see our homecare services page.

Different people need different levels of homecare. To meet the requirements of our clients, At Your Side Homecare maintains consistent staffing levels of caring professionals. Homecare service is available for as little as a few hours a week, or as many as 24 hours a day, seven days a week
Latest posts by Donna Wrabel, LMSW (see all)