Caregiver Tips: Helping Your Parent Cope with Tremors in Her Activities of Daily Living
Caregivers in Hilshire Village TX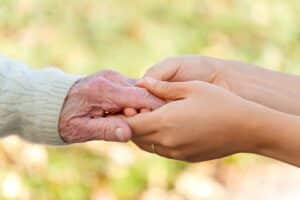 Tremors can be caused by a wide variety of conditions, from multiple sclerosis and Parkinson's disease to essential tremor. These tremors can make a dramatic impact on your parent's ability to function, but that does not mean that these tremors have to completely diminish her quality of life. As her family caregiver, helping your parent cope with her tremor symptoms in her normal course of life can help her to fulfill more of her activities of daily living and maintain more independence.
Use these tips to help your parent cope with tremors on a daily basis:
• Do not take over. As a caregiver it is easy to worry about your loved one and want to make life as easy for her as possible. This might influence you to step in and take over her daily tasks so that she does not have to try to handle them and get frustrated. While this seems like the compassionate thing to do, it can actually make the situation worse. Not allowing her to try to handle her own tasks can cause depression, anxiety, and stress. These not only diminish her quality of life, but may even worsen the tremors.
• Ask permission to help. If you notice that your loved one is having difficulty with a particular task, do not just handle it for her. Ask her if you can help her. This maintains her dignity and shows her that she is still in control. It also gives her the opportunity to tell you what you can do for her so that she can continue to handle part of the task herself.
• Occupational therapy. Whether your parent's tremors are mild or have already progressed to being more severe, consider starting occupational therapy. This type of therapy is designed to help a senior learn how to handle specific tasks in relation to her personal challenges and limitations. The therapist will evaluate the extent of your parent's tremors and teach her how she can work around those tremors and compensate for them when performing basic tasks such as getting dressed, preparing meals, tying her shoes, or cleaning the house.
• Exercise. Encourage your parent to engage in physical activity regularly. This exercise will help to support better mental and emotional health and reduce stress, which can help to reduce tremors. Exercise also helps to strengthen your parent's body and improve her balance. This improved physical condition can help her to control her body better and compensate for the tremors.
• Emotional support. No longer being able to handle her own activities of daily living can be emotionally trying for your parent. Offering emotional support for your parent can help her to feel more confident in her ability to stay as independent as possible and handle tasks on her own. This increased confidence alone can give her greater motivation to do more to find ways to deal with her tremors. Knowing that you are there for her will also make it easier for her to rely on you for the help that she may need.
Source
http://www.everydayhealth.com/multiple-sclerosis/symptoms/handling-tremors-and-shakes/
If you or an aging loved one are considering caregivers in Hilshire Village, TX, please call the caring staff at At Your Side Home Care. We will answer all of your senior care questions. Call today: (832) 271-1600.
For most of us, the word "home" evokes warm feelings of comfort, security and well-being. For older adults, home also means holding tight to cherished memories and maintaining self-esteem and independence. When illness, injury or age make life a little more challenging, remaining at home in a comfortable, familiar environment encourages recovery and enhances the quality of life. Home can be defined as a private residence, an independent or assisted living facility or even a short term stay in the hospital, we recognize the additional benefits provided by a personal, professional assistant.

Our Certified Nurse Aides, 24-Hour Live-in Assistants and Home Health Aides are available 24 hours a day, 365 days a year. We also provide the security and confidence of 24-hour Telephone Assistance, so fast, reliable help is always available when it's needed. To learn more about our homecare services see our homecare services page.

Different people need different levels of homecare. To meet the requirements of our clients, At Your Side Homecare maintains consistent staffing levels of caring professionals. Homecare service is available for as little as a few hours a week, or as many as 24 hours a day, seven days a week
Latest posts by Donna Wrabel, LMSW (see all)