Caregivers in Garden Oaks, TX: Eye Care for Elders
Peoples' vision change as they age. It's a normal part of aging for the eyes to experience one or more of the following. Some are mildly irritating; others may be the sign of disease development.
Eyes taking a longer time in adjusting from light to dark
Difficulty when trying to read small print
The loss of depth perception, making it increasingly difficult to judge distances
Developing more sensitivities to glare from light sources, such as sunlight or unshielded light bulbs
Dry eyes
Watery eyes or eyes that are teary
Increased difficulty in seeing contrasts and color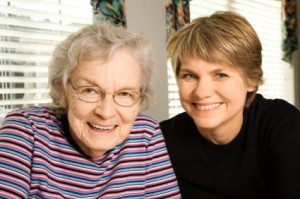 Vision is a vital part of daily living for most people. Recognizing changes in the eyes' function or in eyesight in general are important so that proper eye diagnosis and treatment can begin. As a home care provider you may notice changes in your elderly adult's eyesight before they do. It may come on so gradually that they don't figure it out right away.
Regular eye examinations can detect problems when still in the early stages, thus helping to maintain good vision for a longer period of time.
Most seniors use glasses to correct the normal vision loss related to age. Sometimes medication or surgery is also necessary.
Some of the symptoms of vision loss that you may notice are:
Increases in light sensitivity and/or squinting
Falling because she didn't see a step or an object that was on the floor
He chooses bright colored clothing or objects over dull consistently
Those who are still driving are missing street signs, traffic signs and as a result have an increase in driving mistakes
She spills her food or drink because she is misjudging where the items are
He has been experiencing uncontrolled movement of the eyes
She cannot read from or copy from written texts without frequent mistakes
He is having difficulty seeing at night and needs more light in the house at night to see in the dark
She seems clumsy; not being able to do things she could before, like threading a needle or buttoning her shirt
He sees flashes of light from the corner of his eyes; sometimes it looks like a rapid movement
There are also several diseases that can affect vision, so any changes in the ability to see should be checked out with the doctor. Most eye problems have a really good outcome when discovered and treated in the early stages.
If you have a loved one who could benefit from the help of home care services in Garden Oaks, TX contact the caregivers at At Your Side Home Care. We help seniors and their families with many levels of home care service. Call (832) 271-1600 for more information.
For most of us, the word "home" evokes warm feelings of comfort, security and well-being. For older adults, home also means holding tight to cherished memories and maintaining self-esteem and independence. When illness, injury or age make life a little more challenging, remaining at home in a comfortable, familiar environment encourages recovery and enhances the quality of life. Home can be defined as a private residence, an independent or assisted living facility or even a short term stay in the hospital, we recognize the additional benefits provided by a personal, professional assistant.

Our Certified Nurse Aides, 24-Hour Live-in Assistants and Home Health Aides are available 24 hours a day, 365 days a year. We also provide the security and confidence of 24-hour Telephone Assistance, so fast, reliable help is always available when it's needed. To learn more about our homecare services see our homecare services page.

Different people need different levels of homecare. To meet the requirements of our clients, At Your Side Homecare maintains consistent staffing levels of caring professionals. Homecare service is available for as little as a few hours a week, or as many as 24 hours a day, seven days a week
Latest posts by Donna Wrabel, LMSW (see all)