August 7th is Friendship Day
Caregivers in Cinco Ranch TX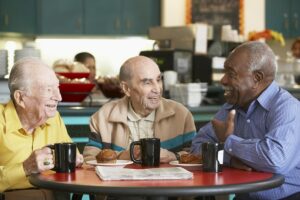 Having great friendships is important for both caregivers and their elderly loved ones. Strong bonds with friends can help people of all ages to feel happier, healthier, and more connected with others. August 7th is Friendship Day, a holiday that is dedicated to celebrating friendships. Friendship Day is a great day to encourage your loved one to think about their friendships and think about ways that they can show gratitude to a friend, strengthen a relationship with a friend, or simply make their friend smile. In addition, it is important for caregivers to do the same. When caregivers have strong friendships, they may be less likely to suffer from stress or even depression. If you and your loved one are looking for ways to celebrate Friendship Day this year, read on for some great ideas!
Write a Letter to a Friend
Do you or your loved one have a friend that lives far away? Distance can make staying in touch and keeping a friendship strong a challenge. This Friendship Day, encourage your loved one to reach out to a friend who lives far away by writing them a letter. This is also an activity that you can get involved in, too, if you have a friend that lives far away. Write about the things that are happening in your life and be sure to include a happy memory or two. Perhaps they will write back and you and your loved one can make letter-writing a more frequent activity.
Make Plans
Does your loved one have a friend that they have been wanting to get together with but life always seems to get in the way? Encourage them this Friendship Day to make some concrete plans and stick to them. Have your loved one invite their friend over for lunch, out for coffee, or agree to meet them at the park. When your loved one has a scheduled activity with a friend, they will be less likely to miss it. If they enjoy their time spent with their friend, they may even wish to make get-togethers a more regular activity.
Surprise a Friend with Something Kind
Your friend and/or your loved one's friend may not know that it is Friendship Day. So, if you do something kind for them on August 7th it will be a delightful surprise. Send a card, make a box of cookies, or give them a fresh bouquet of flowers form the garden. These gestures will surely be appreciated and you and your loved one will have fun making a friend smile.
If you or an aging loved one are considering caregivers in Cinco Ranch, TX, please call the caring staff at At Your Side Home Care. We will answer all of your senior care questions. Call today: (832) 271-1600.
For most of us, the word "home" evokes warm feelings of comfort, security and well-being. For older adults, home also means holding tight to cherished memories and maintaining self-esteem and independence. When illness, injury or age make life a little more challenging, remaining at home in a comfortable, familiar environment encourages recovery and enhances the quality of life. Home can be defined as a private residence, an independent or assisted living facility or even a short term stay in the hospital, we recognize the additional benefits provided by a personal, professional assistant.

Our Certified Nurse Aides, 24-Hour Live-in Assistants and Home Health Aides are available 24 hours a day, 365 days a year. We also provide the security and confidence of 24-hour Telephone Assistance, so fast, reliable help is always available when it's needed. To learn more about our homecare services see our homecare services page.

Different people need different levels of homecare. To meet the requirements of our clients, At Your Side Homecare maintains consistent staffing levels of caring professionals. Homecare service is available for as little as a few hours a week, or as many as 24 hours a day, seven days a week
Latest posts by Donna Wrabel, LMSW (see all)