Caregiver Recipes: Greek Pasta Casserole
Caregivers in Memorial, TX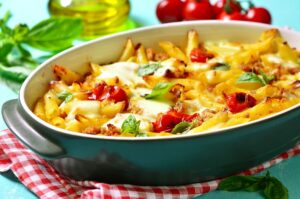 At the end of another busy day in your elder care schedule, sitting down to a delicious, satisfying meal is a wonderful way to reconnect with your family, relax, and replenish your body. Sometimes, however, it can be difficult to come up with ideas for meals that you can prepare quickly and that will not only appeal to everyone that you need to feed, but fit in with your nutrition goals for them.
This meal combines crowd-pleasing pasta and cheese with the goodness of vegetables and chicken along with Greek-inspired flavors for a unique and delicious take on the usual family dinner. Packed with protein, vitamins, and fiber, this dinner is perfect for every member of your family. If there are any leftovers, be sure to refrigerate or freeze them so that your parents and their elderly health care services provider can enjoy them later for a quick lunch or easy dinner.
What You Will Need
1/2 of a cup of crumbled feta cheese
1/2 of a cup of shredded part skim mozzarella cheese
1 teaspoon of dried oregano
1 teaspoon of dried basil
2 tablespoons of chopped green pepper
1/4 cup of chopped red onion
2 cans of ripe, drained, sliced olives
1 package of frozen chopped spinach
1 can of diced tomatoes
1 can of tomato sauce
4 cups of cubed, pre-cooked chicken breast
1 package of whole wheat penne pasta
A sharp knife
A cutting board
A large pot
A large bowl
A 13 by 9 inch baking dish
Cooking spray
Olive oil
Salt to taste
Aluminum foil
Thermometer
What to Do
Using the sharp knife and the cutting board, chop the onion and set aside
Thaw and squeeze dry the chopped spinach
Drain the diced tomatoes
Fill the large pot with 3/4 of the way with water and place on high heat
Once the water has come to a boil, add olive oil and salt to taste
Drop the pasta into the boiling water
Cook for 12 minutes or until al dente, stirring occasionally
Drain the pasta and set aside, covered
In a large bowl, combine the chicken, tomatoes, tomato sauce, olives, spinach, onion, basil, green pepper and oregano
Add the pasta and mix well, until the pasta is well combined
Coat the 13 by 9 inch baking dish with cooking spray
Transfer the pasta mix into the 13 by 9 inch baking dish
Sprinkle the top of the casserole with the various cheeses until fully covered
Preheat the oven to 400 degrees F
Place the casserole in the oven and allow to bake uncovered
Bake for up to 30 minutes, or until the cheese is melted and it is heated through
Remove and allow to cool for just a minute or two before serving
If freezing the casserole, allow it to cool completely
Cover and freeze, up to a month
When ready to cook, remove from the freezer and place in the refrigerator to thaw overnight
Preheat the oven to 400 degrees F
Bake the casserole until it is heated all the way through or until a thermometer reads 165 degrees F
Remove and serve hot
If you or an aging loved one are considering caregivers in Memorial, TX, please call the caring staff at At Your Side Home Care. We will answer all of your senior care questions. Call today: (832) 271-1600.
For most of us, the word "home" evokes warm feelings of comfort, security and well-being. For older adults, home also means holding tight to cherished memories and maintaining self-esteem and independence. When illness, injury or age make life a little more challenging, remaining at home in a comfortable, familiar environment encourages recovery and enhances the quality of life. Home can be defined as a private residence, an independent or assisted living facility or even a short term stay in the hospital, we recognize the additional benefits provided by a personal, professional assistant.

Our Certified Nurse Aides, 24-Hour Live-in Assistants and Home Health Aides are available 24 hours a day, 365 days a year. We also provide the security and confidence of 24-hour Telephone Assistance, so fast, reliable help is always available when it's needed. To learn more about our homecare services see our homecare services page.

Different people need different levels of homecare. To meet the requirements of our clients, At Your Side Homecare maintains consistent staffing levels of caring professionals. Homecare service is available for as little as a few hours a week, or as many as 24 hours a day, seven days a week
Latest posts by Donna Wrabel, LMSW (see all)