Being Respectful and Respected as a Caregiver in The Heights, TX
When you make the decision to be a caregiver for an aging loved one, you are making a decision that will have extensive implications for both you and your aging loved one. Your role as a caregiver will make a tremendous difference in your life, and in the life of your aging loved one for as long as the relationship persists. While most would like to think that this difference will all be positive, the reality is that providing home care for an aging loved one is a difficult undertaking that can be physically and emotionally painful and exhausting. If your aging loved one is suffering from cognitive challenges related to Alzheimer's disease, dementia or other conditions, these difficulties can be compounded.
Cognitive challenges can lead to seniors becoming aggressive, angry and combative. Though these problems are largely unavoidable and are not intentional on the part of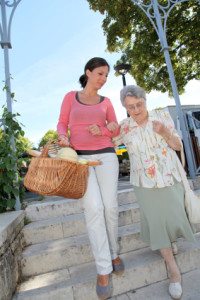 the senior, it is not always the case that a senior is disrespectful or even abusive due to unavoidable influences. The unfortunate reality is that some seniors respond to the pressures and emotional turmoil of aging by becoming aggressive, angry and bitter. They then turn these emotions on their caregivers rather than showing these people appreciation and acknowledgement. This can lead to extensive damage to the relationship.
If you are a caregiver for an aging loved one, it is critical that you make efforts to both show respect and demand to be shown respect by your loved one. Even if there are some cognitive challenges at play, if your aging loved one is capable of understanding and controlling his behavior, you should hold him accountable.
Don't hesitate to discuss your feelings with your aging loved one. If you feel as though you are being disrespected or mistreated, you should be honest with him regarding these feelings. Tell him what you feel he is doing wrong, and how you feel about it. Do not try to sugar coat the situation, but also don't disrespect him in the process. Gently approach the situation and point out that you are providing care out of love and consideration for his wellbeing, so you don't understand why he is being so disrespectful to you. Consider presenting alternatives to you providing care for your loved one. Do not use this as a threat. Rather, genuinely offer options such as hiring a home care services companion or a live-in caregiver, or transitioning your loved one into assisted living. Present these options as an alternative to you providing care if the senior cannot tolerate you as the caregiver. This can open the lines of communication and create a more beneficial relationship.
If you have a loved one who could benefit from the help of home care services in The Heights, TX contact the caregivers at At Your Side Home Care. We help seniors and their families with many levels of home care service. Call (832) 271-1600 for more information.
For most of us, the word "home" evokes warm feelings of comfort, security and well-being. For older adults, home also means holding tight to cherished memories and maintaining self-esteem and independence. When illness, injury or age make life a little more challenging, remaining at home in a comfortable, familiar environment encourages recovery and enhances the quality of life. Home can be defined as a private residence, an independent or assisted living facility or even a short term stay in the hospital, we recognize the additional benefits provided by a personal, professional assistant.

Our Certified Nurse Aides, 24-Hour Live-in Assistants and Home Health Aides are available 24 hours a day, 365 days a year. We also provide the security and confidence of 24-hour Telephone Assistance, so fast, reliable help is always available when it's needed. To learn more about our homecare services see our homecare services page.

Different people need different levels of homecare. To meet the requirements of our clients, At Your Side Homecare maintains consistent staffing levels of caring professionals. Homecare service is available for as little as a few hours a week, or as many as 24 hours a day, seven days a week
Latest posts by Donna Wrabel, LMSW (see all)