Art Projects for Elder Care in Hunters Creek, TX: April 8th is Draw a Picture of a Bird Day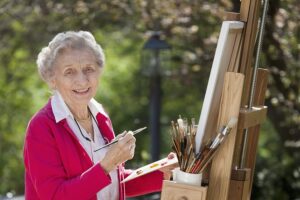 Art is one of those things that just about everyone can do. It's also a great elder care activity that can cater to a wide range of interests. It doesn't matter whether the senior doesn't believe that he or she has any real artistic abilities; when there's desire, or even passing interest, then it's possible to get involved in art.
April 8th is Draw a Picture of a Bird Day and even though you don't have to actually draw a picture of a bird, it's a good reminder that are surrounds us and it can become part of your life, if you let it.
Why is art so popular among seniors as they age? For one thing, the number of activities that seniors can participate in begins to decline over time. That means instead of sitting around being bored, they may be more interested in activities that they might not have thought about in the past, such as drawing pictures or taking part in other artistic endeavors.
Birds are one of the easiest things to draw, depending on how detailed you're going to be about the creature. Of course, you can always have the senior begin with the basics, such as the shape, beak, claws and talons. Or even a flock of birds in a sky scene. These birds could be little more than a couple of 'Ws' flying through the air.
If you don't have any artistic abilities and are concerned about how to get the senior to be interested in art, remember that you aren't there to 'make' anyone do anything. You can certainly encourage them and one way is to find a local adult art class for beginners, or whatever level they might be when it comes to artistic endeavors.
You can contact the local senior center, or nearest one, to find out what they may have as far as art classes are concerned. They might not recognize that April 8th is Draw a Picture of a Bird Day, but that's not the main focal point of this article. It's about getting involved in other activities that are not only great for their emotional health, but also positive forces for their mental health as well.
When it comes to positive elderly home care or any other type of elder care, art is a great activity for seniors of any age and almost any physical capabilities.
If you have a loved one who could benefit from the help of elder care in Spring Valley, TX contact the caregivers at At Your Side Home Care. We help seniors and their families with many levels of home care service. Call (832) 271-1600 for more information.
For most of us, the word "home" evokes warm feelings of comfort, security and well-being. For older adults, home also means holding tight to cherished memories and maintaining self-esteem and independence. When illness, injury or age make life a little more challenging, remaining at home in a comfortable, familiar environment encourages recovery and enhances the quality of life. Home can be defined as a private residence, an independent or assisted living facility or even a short term stay in the hospital, we recognize the additional benefits provided by a personal, professional assistant.

Our Certified Nurse Aides, 24-Hour Live-in Assistants and Home Health Aides are available 24 hours a day, 365 days a year. We also provide the security and confidence of 24-hour Telephone Assistance, so fast, reliable help is always available when it's needed. To learn more about our homecare services see our homecare services page.

Different people need different levels of homecare. To meet the requirements of our clients, At Your Side Homecare maintains consistent staffing levels of caring professionals. Homecare service is available for as little as a few hours a week, or as many as 24 hours a day, seven days a week
Latest posts by Donna Wrabel, LMSW (see all)