Are You Nuts for Peanuts? October 22nd is Your Day to Celebrate!
Caregivers in Memorial, TX – Enjoy this Neat Holiday with a New, International Recipe to Try!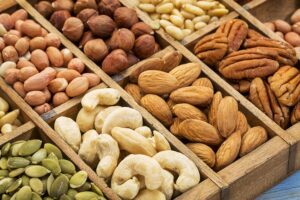 October 22nd is National Nut Day this year! If you or your senior parent are fond of any type of nuts, you'll love the nutty tips we have in this article. It's the time of year to celebrate all things nuts: delicious, nutritious and environmentally-friendly protein. Nuts do so many good things for our bodies and our planet. During this day, you and your senior parent can focus on switching to nuts for more reasons than just health. Eating less meat and processed foods, and replacing that with nuts in our diets will have a smaller impact on the environment. Spread the word about national nut day on Wednesday the 22nd and organize some fun activities with your family!
Celebrating Nut Day with the Nuts in Your Family
Okay, enough with the nut jokes. In all seriousness, you can have a lot of fun on this day. Ask your elderly loved one what his or her favorite nut is. Here are some varieties that most people think of:
Peanuts

Cashews

Walnuts

Almonds

Brazil nuts

Pecans

Chestnuts

Hazelnuts

Pine nuts

Macadamia nuts

Pistachio
Did you know that nuts are staple foods in countries around the world? Many Americans don't know that much about the nutrition and benefit of nuts. They're actually an important source of fatty acids such as omega fats. Nuts can be a protein substitute for vegetarians, or an added protein for people that still enjoy meat. While nuts help reduce the amount of greenhouse gases commonly used in production of fast food, trade of Brazil nuts in particular also help to save the amazon rainforests. You can feel good about your senior's nutrition if you request nuts in the menu. Hiring home care providers is a good way to have balanced meals prepared and extra help in caring for your senior parent.
Mtedza Savory Rice
This is a Malawian dish, and the word mtedza means peanuts.
125 grams thick sliced bacon, cut into small cubs

2 tbsp. olive oil

1 large red onion, thinly sliced

½ green chili, sliced

2 cloves garlic, chopped

1 large chicken breast cut into chunks

700 mL chicken broth

4 tbsp. peanuts

1 green pepper, thinly sliced

½ green onion, sliced

Squeeze of lemon juice

Salt to taste
In a large pot heat oil and fry the bacon until golden. Stir in the onions and cook another five minutes, then add garlic and green chili pepper. Stir in the diced chicken and rice, fry for a few minutes (make sure the rice doesn't stick) and then add the broth, a little salt, and cover. Bring to a simmer for 10 minutes, then turn heat off and leave another 10 minutes. Stir in the peanuts, pepper and add whatever seasonings you'd like such as coriander.
If you have a loved one who could benefit from the help of caregivers in Memorial, TX contact At Your Side Home Care. We help seniors and their families with many levels of home care service. Call (832) 271-1600 for more information.
For most of us, the word "home" evokes warm feelings of comfort, security and well-being. For older adults, home also means holding tight to cherished memories and maintaining self-esteem and independence. When illness, injury or age make life a little more challenging, remaining at home in a comfortable, familiar environment encourages recovery and enhances the quality of life. Home can be defined as a private residence, an independent or assisted living facility or even a short term stay in the hospital, we recognize the additional benefits provided by a personal, professional assistant.

Our Certified Nurse Aides, 24-Hour Live-in Assistants and Home Health Aides are available 24 hours a day, 365 days a year. We also provide the security and confidence of 24-hour Telephone Assistance, so fast, reliable help is always available when it's needed. To learn more about our homecare services see our homecare services page.

Different people need different levels of homecare. To meet the requirements of our clients, At Your Side Homecare maintains consistent staffing levels of caring professionals. Homecare service is available for as little as a few hours a week, or as many as 24 hours a day, seven days a week
Latest posts by Donna Wrabel, LMSW (see all)