A Fun Indoor Plant Idea for Seniors in Winter
Senior Care in Houston, TX– Bonsai Trees are a Fun and Interesting Hobby for Seniors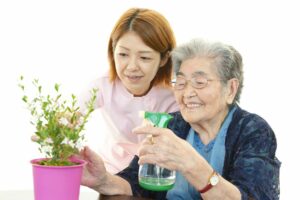 Bonsai is a beautifully intricate Japanese art form. It translates literally to "tray planting" and represents an aesthetic miniature model of nature. Bonsai trees are deliberately twisted and trained into shapes and are prevented from growing too large. Maintaining a bonsai takes time and diligent care and is a hobby practiced by all ages. This is the perfect way for a mobility challenged senior to have something to care for in his or her own home, and something fulfilling to do. Even when your senior parent can't leave very often or doesn't get many visitors, having a plant or pet is a sure way to help them stay lively.
While rooted in China and Japan, the art of bonsai has become very popular in the West as well. It is very common to see bonsai collections at gardening stores in North America and as interior decoration in people's homes.
Bonsai Rules for Growing
The major rule of bonsai is that there are no rules. Despite this, here are a few guidelines to keep your bonsai healthy and beautiful. Have your senior help you go pick one out and then show them how to care for it.
Let them breathe – Ensure your bonsai has adequate fresh air. An open window nearby or a spot outside if the climate allows.

Sunshine, sunshine, and more sunshine – Of course this will depend on the type of tree, but generally most trees appreciate at least some sunshine for part of the day.

Water & Fertilize Regularly – These are necessary for each tree to maintain good health. But beware to give too much, the goal with bonsai is to limit excessive growth.

Shaping – Even if your tree may look gorgeous now, it will grow and its shape will change over time. Regular re-shaping will be needed and long term planning is required. One of the great charms of bonsai is never-ending change.

Miniature trees

≠

Bonsai

–

Merely replicating a tree in mini-form does not make an authentic bonsai. Bonsai are not intended to model nature exactly as it is

–

the proportions between the lower roots and the upper trunk are much different than found in

nature. Only research, time, and diligent tinkering will create the ideal bonsai shape.

Stay Put – Most bonsais are adapted solely to their local climate and will not survive in another location or may wither during transportation. This is another charm of bonsai since many of the most outstanding Japanese works must been seen in Japan and cannot be brought abroad.
Daily tasks like helping to care for Bonsai trees, cooking, cleaning, driving for errands and making appointments can get anyone bogged down. If your tasks as a caregiver are becoming too much, you can hire a caregiver to help. Let the caregiver know about the bonsai tree your parent has, and how to help your senior parent take care of it.
If you have a loved one who could benefit from the help of senior care in Houston, TX contact At Your Side Home Care. We help seniors and their families with many levels of home care service. Call (832) 271-1600 for more information.
For most of us, the word "home" evokes warm feelings of comfort, security and well-being. For older adults, home also means holding tight to cherished memories and maintaining self-esteem and independence. When illness, injury or age make life a little more challenging, remaining at home in a comfortable, familiar environment encourages recovery and enhances the quality of life. Home can be defined as a private residence, an independent or assisted living facility or even a short term stay in the hospital, we recognize the additional benefits provided by a personal, professional assistant.

Our Certified Nurse Aides, 24-Hour Live-in Assistants and Home Health Aides are available 24 hours a day, 365 days a year. We also provide the security and confidence of 24-hour Telephone Assistance, so fast, reliable help is always available when it's needed. To learn more about our homecare services see our homecare services page.

Different people need different levels of homecare. To meet the requirements of our clients, At Your Side Homecare maintains consistent staffing levels of caring professionals. Homecare service is available for as little as a few hours a week, or as many as 24 hours a day, seven days a week
Latest posts by Donna Wrabel, LMSW (see all)