6 Ways to Make Cooking and Eating Fun Again for Seniors
Elder Care in Garden Oaks, TX – Cooking is a Great Way to Reconnect with an Elderly Loved One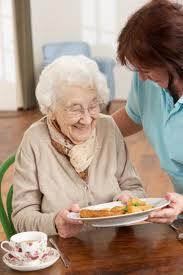 A senior who has come home from the hospital to recover and get back into good health may unintentionally jeopardize their own recovery by not eating well. This can happen for a number of reasons, the biggest one being the lack of companionship. When seniors get lonely they often lose their appetite and their desire to cook. It simply isn't very enjoyable to eat alone and have no one to talk to. Even when the family has helped by planning things out (like a weekly menu), those plans simply don't get carried out.
The University of Maryland conducted a study led by Dr. Nadine Sahyoun which followed older adults who had been discharged from the hospital. Even though they qualified for home-delivered meals, the study revealed that 80% of the elders couldn't or didn't utilize the food. The food might be in their kitchen, but they weren't able to use the food for cooking.
Cooking and eating are an art; they're also closely tied to sociality. Food is at the foundation of life for humans – the aroma, color and feel as well as texture all play an important role, as does the social context. All of these things combined makes food and eating enjoyable to people.
How do you put the fun back into cooking and eating for your elderly loved one?
Make sure they have company and aren't lonely all day. See if another family member can go eat with them a few times a week, and assist in cooking the meal.

Ensure they have the opportunity to go grocery shopping (they may need transportation) so they can make some of their own food choices.

Celebrate fun food observances and other holidays which would warrant different kinds of meals.

Ask them to teach you how to make one of their favorite recipes. They will feel important and needed and it will be very enjoyable for them to eat it as well.

Remember to invite your loved one to join you when the family goes out to eat. They probably don't get out very often. They are more likely to eat healthier choices and bigger quantities when they are in the company of others (like we all do!)

Having an elderly home care provider may make all the difference in the world to your senior in regards to enjoying cooking and eating again. They would have help to do meal planning, grocery shopping, meal preparation, and would have some company while they eat as well.
Loneliness is one of the biggest factors affecting the emotional health of seniors today. Loneliness and isolation can lead to depression and discouragement. Having someone to spend time with during the day, to talk to and to play games with adds to emotional health and well-being.
If you have a loved one who could benefit from the help of elder care in Garden Oaks, TX contact At Your Side Home Care. We help seniors and their families with many levels of home care service. Call (832) 271-1600 for more information.
For most of us, the word "home" evokes warm feelings of comfort, security and well-being. For older adults, home also means holding tight to cherished memories and maintaining self-esteem and independence. When illness, injury or age make life a little more challenging, remaining at home in a comfortable, familiar environment encourages recovery and enhances the quality of life. Home can be defined as a private residence, an independent or assisted living facility or even a short term stay in the hospital, we recognize the additional benefits provided by a personal, professional assistant.

Our Certified Nurse Aides, 24-Hour Live-in Assistants and Home Health Aides are available 24 hours a day, 365 days a year. We also provide the security and confidence of 24-hour Telephone Assistance, so fast, reliable help is always available when it's needed. To learn more about our homecare services see our homecare services page.

Different people need different levels of homecare. To meet the requirements of our clients, At Your Side Homecare maintains consistent staffing levels of caring professionals. Homecare service is available for as little as a few hours a week, or as many as 24 hours a day, seven days a week
Latest posts by Donna Wrabel, LMSW (see all)