5 Great Reasons for Seniors to Get Moving!
Elder Care in River Oaks, TX – Even the Smallest Amount of Regular Exercise has Huge Benefits for Seniors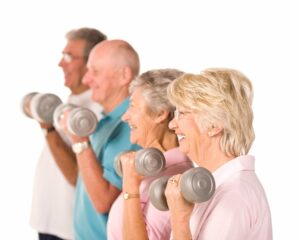 Our bodies are meant to move, not sit on a couch all day in front of a TV. Not everyone has to train for a triathlon to exercise but just moving your body, such as simply walking around the block or doing leg lifts can be beneficial to you in so many ways. In particular, older adults reap many benefits by being active and continuing to be active as they age. The National Institute on Aging touts one of the main advantages for the elderly to stay physically active is that it can help them stay independent and produces many long-term health benefits.
Regular exercise can lower a person's chance of developing certain diseases or medical conditions as they get older such as cardiovascular disease, diabetes, some cancers, osteoporosis or high blood pressure. Even if an older person has these medical conditions, exercise can help manage and improve them. What are some other pluses to getting your body moving?
Exercise can ease arthritis pain and stiffness.
Physical activity improves muscle and bone strength.
It helps with balance problems.
Exercise is good for your mental health and can help with depression and mood issues as well as improve cognitive functions.
Doing physical activities is a good way for seniors to socialize and meet new people.
However, even with knowing all of these health benefits, some seniors may not know how to get started exercising or may have mobility issues that limit them from walking or moving. Here's the good news – exercise doesn't have to be hard or super physical. Exercise falls under four categories that include flexibility, balance, strength and endurance. Here are some activities that fall into each category:
1. Flexibility – this helps your body stay limber and helps you move. Some examples include:
2. Balance – improving balance helps prevent falls:
standing on one foot
walking heel to toe
side leg raises
back leg raises
3. Strength – helps strengthen muscles:
Lifting small weights
Using resistance bands
4. Endurance – helps keep you fit:
The National Institute on Aging had this to say about exercise and seniors: "Today, we know a lot more about older adults and their need to exercise. Regardless of their health and physical abilities, older adults can gain a lot by staying physically active. Even if you have difficulty standing or walking, you can still exercise and benefit from it. In fact, in most cases, you have more to lose by not doing anything." (Source)
A caregiver from elderly home care can assist your loved one in getting regular exercise as well as other tasks such as going shopping and helping to prepare meals.
If you have a loved one who could benefit from the help of elder care in River Oaks, TX contact At Your Side Home Care. We help seniors and their families with many levels of home care service. Call (832) 271-1600 for more information.
For most of us, the word "home" evokes warm feelings of comfort, security and well-being. For older adults, home also means holding tight to cherished memories and maintaining self-esteem and independence. When illness, injury or age make life a little more challenging, remaining at home in a comfortable, familiar environment encourages recovery and enhances the quality of life. Home can be defined as a private residence, an independent or assisted living facility or even a short term stay in the hospital, we recognize the additional benefits provided by a personal, professional assistant.

Our Certified Nurse Aides, 24-Hour Live-in Assistants and Home Health Aides are available 24 hours a day, 365 days a year. We also provide the security and confidence of 24-hour Telephone Assistance, so fast, reliable help is always available when it's needed. To learn more about our homecare services see our homecare services page.

Different people need different levels of homecare. To meet the requirements of our clients, At Your Side Homecare maintains consistent staffing levels of caring professionals. Homecare service is available for as little as a few hours a week, or as many as 24 hours a day, seven days a week
Latest posts by Donna Wrabel, LMSW (see all)