5 Dental Health Issues Your Elderly Loved One May Face
Senior Care in Garden Oaks, TX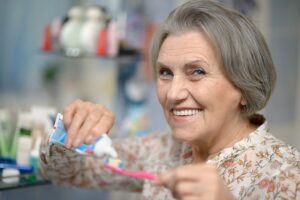 Sometimes your elderly loved one may try to avoid the dentist, either because she sees no point in going or because she's experiencing dental issues. It's really important that you stay on top of your loved one's dental health, though, even if she's resisting the idea of going. Here are some problems your loved one might be facing when it comes to her teeth and her mouth.
Cavities
Cavities are a problem at all ages, unfortunately, and your elderly loved one isn't immune to developing them still. The best defense against cavities is to brush and floss daily, but if your loved one has dental pain, she may be resistant to both of these activities. As we age, our gums recede, which can then expose parts of the tooth that don't have protection from tooth enamel. It's important to make sure your loved one gets in to the dentist for regular checkups to make sure there aren't any new cavities to worry about.
Sensitivity
Another side effect of those receding gum lines can be increased sensitivity. This can also happen due to tooth decay or even some medications, so it's important that your loved one's dentist narrows down the cause. Sensitivity can show up when your loved one eats or drinks hot or cold items or even when her teeth are simply exposed to cold air. Toothpastes designed to soothe sensitive teeth can help, but definitely rule out problems before using these since they can hide problems that are fixable.
Dry Mouth
As your loved one ages, she may experience dry mouth more often than ever before. Part of this has to do with the fact that as we age, our body retains less water than it used to. Other contributing factors are health problems or even the medications used to treat health conditions. Drinking more water can help, as can sugar-free hard candies. Your loved one's dentist may have other recommendations, too. Another helpful person to ask can be your loved one's senior care providers because they often have quite a bit of experience with helping elderly loved ones with that sort of trouble.
Dentures
Dentures, whether partial or full, are not uncommon at all for elderly loved ones. Some people find them to be embarrassing, however, and avoid talking about their dentures. Regular dental checkups help to ensure that your loved one's dentures are fitted properly and that they're in good condition to help her to eat the foods that she loves.
Gum Disease
Gum disease is especially important to watch for in your elderly loved one. Spotty oral hygiene, stress, smoking, some medications, and even some health conditions can worsen or create problems in your loved one's gums. Making and keeping regular appointments with the dentist can help to spot these problems early enough that your loved one can be treated, however.
Dental health is still important, even for your elderly loved one. Help her to make sure that her mouth and teeth don't give her trouble.
Source
http://www.webmd.com/oral-health/guide/dental-care-seniors
If you or an aging loved one are considering in-home senior care in Garden Oaks, TX, please call the caring staff at At Your Side Home Care. We will answer all of your senior care questions. Call today: (832) 271-1600
For most of us, the word "home" evokes warm feelings of comfort, security and well-being. For older adults, home also means holding tight to cherished memories and maintaining self-esteem and independence. When illness, injury or age make life a little more challenging, remaining at home in a comfortable, familiar environment encourages recovery and enhances the quality of life. Home can be defined as a private residence, an independent or assisted living facility or even a short term stay in the hospital, we recognize the additional benefits provided by a personal, professional assistant.

Our Certified Nurse Aides, 24-Hour Live-in Assistants and Home Health Aides are available 24 hours a day, 365 days a year. We also provide the security and confidence of 24-hour Telephone Assistance, so fast, reliable help is always available when it's needed. To learn more about our homecare services see our homecare services page.

Different people need different levels of homecare. To meet the requirements of our clients, At Your Side Homecare maintains consistent staffing levels of caring professionals. Homecare service is available for as little as a few hours a week, or as many as 24 hours a day, seven days a week
Latest posts by Donna Wrabel, LMSW (see all)